Broward DUI Lawyer – State Fee Hike as Legislature Announces Budget
The Florida Legislature has announced its budget plan for the coming fiscal year. Due to declining revenue, the state was forced to make significant budget cuts, including a two percent decrease of the salaries of state employees who make more than $45,000 per year. Still, representatives and state senators said cuts and fee increases were necessary across the board. Some of these fees affect people who have driving-related criminal convictions and especially DUI convictions. Overall, fees in the state will rise significantly, with those affecting drivers expected to total about $800 million. Broward DUI Lawyer William Moore knows that many Floridians are concerned with the overall impact of the fees on their pocketbooks and the state's economy more generally.
The DUI administrative fee will rise by $15 to $130. The Florida Department of Highway Safety and Motor Vehicles will charge a significantly higher fee to reinstate a driver's license – jumping from $12.50 to $60. A driver's license might need to be reinstated due to unpaid parking tickets, a breath test refusal, a DUI arrest or conviction, or for other reasons, says Fort Lauderdale DUI Lawyer William Moore. A replacement driver's license jumped markedly in price, from just $10 to $25. For people convicted of DUI or people serving probation with certain conditions, an additional $12 fee will now apply for the installation of ignition interlock devices, which require breath samples with very low or no levels of alcohol to start or continue operating a motor vehicle. Prisoners in Florida currently have a non-emergency health care co-pay of $4; under the new budget, it will rise to $5. Commercial driver's licenses will increase by $8, costing $75. Some of the largest tax increases affected tobacco. The cigarette sales tax, which was 34 cents per pack, rose by an entire dollar per pack.
Fort Lauderdale DUI defense attorney William Moore Criminal Defense knows that prisoners and people with criminal convictions, including for driving under the influence of alcohol or drugs, are among the hardest hit during a budget crisis. It is not surprising that ignition interlock device fees, administrative DUI fees, and driver's license reinstatement costs are all rising. The public thinks that those who are perceived to be wrongdoers should bear the brunt whenever possible – it is the same reason, at least in part, why the tobacco tax is rising. Additionally, the state government believes it has an interest in the prevention of smoking.
The New & Old Capitol of Florida Pictures, Images and Photos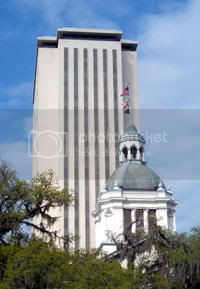 Fort Lauderdale DUI attorney William Moore provides outstanding DUI defense in Broward, Fort Lauderdale, and Fort Lauderdale-Dade Counties. If you have been charged with a DUI, contact Fort Lauderdale DUI Lawyer William Moore, P.A.
This article should be used for informational purposes only and should not be construed as legal advice nor as implied representation of any person.