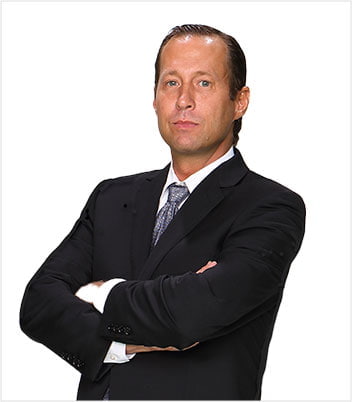 William R. Moore
Attorney at Law
William Moore has lived in Fort Lauderdale, Florida his entire life and is a familiar face around the Broward County Courthouse. Admitted to the Florida Bar in 1997, William had already achieved significant success in law school by not only being named Editor of the Nova Southeastern Shepard Broad Law Center's ILSA Law Review but also an Officer of the University's prestigious Moot Court.
Immediately upon passing the Florida Bar, Attorney Moore was hired by the Broward County State Attorney's Office and began litigating felony cases in Circuit Criminal Court. As an Assistant State Attorney, William prosecuted every level and degree of criminal offenses against some of the best and most notable criminal defense lawyers in Florida. Observing their tactics and strategies while litigating against them on opposite side of the courtroom.
In 2001, Attorney William Moore was approached by the elected Public Defender at the time and asked to switch sides and come to work for his office defending rather than prosecuting cases. This unique opportunity was unprecedented at the time in that both Public Defender and State Attorney had been operating under a contact that had existed for over a decade. This agreement officially prevented either office from hiring lawyers employed by the other. William accepted the invitation and ignited a firestorm that was reported in local newspapers and news broadcasts.
As an Assistant Public Defender, Attorney Moore unleashed an attack on Broward County prosecutors that was unprecedented. Over the course of less than a year, William defended twelve jury trials to verdict. Trial after trial he consistently earned "not guilty" verdicts in favor of the clients he was appointed to represent. By the time William left the PDs office just nine months later, veteran prosecutors were volunteering for an opportunity to try a case against him. When all was said and done, William Moore had tried more cases for the year than any other Felony division Public Defender despite his having had a three-month disadvantage. Also, worth noting is that at the time, the Broward County Defense Bar would present a "Hat Trick Award" to any criminal lawyer who earned three felony "not guilty" verdicts in a row. To putthis into perspective, while serving as a public servant, William technically qualified for a Hat Trick of Hat Trick Awards (plus another Hat Trick); Something that there was no award in place for. Attorney Moore left the Public Defender's Office in 2001 on good terms and continues to be referred by both Chief and Line Defenders on a regular basis. To this day, an overwhelming majority of the criminal cases tried by him have resulted in a verdict of not guilty.
After leaving the Public Defender's Office, William Moore went into the private sector and opened up an office in Fort Lauderdale where he has exclusively represented clients in criminal law and restraining order proceedings. Since that time, he has served as the sole attorney on thousands of cases filed in Broward County achieving notoriety among his peers and judiciary alike.
Education
J.D., Shepard Broad Law Center, Nova Southeastern University, 1997
B.S., Flagler College
Jurisdictions Admitted to Practice Florida State Bar, 1997