Criminal Case Search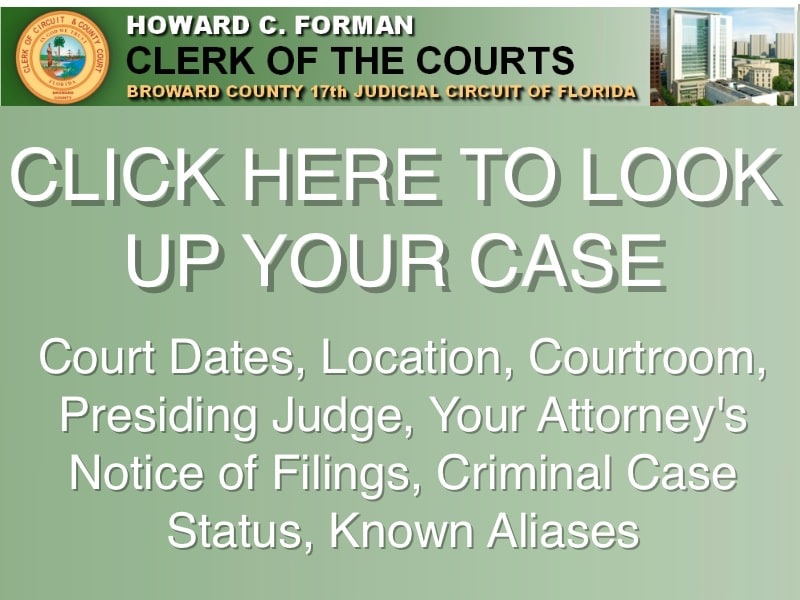 First of all, always be prepared before entering the courtroom. If you were arrested in Broward County, Florida you may obtain current information about your criminal court case on our criminal case search page. All information about pending and closed criminal case files is obtained directly by and through the Clerk of Courts in and for Broward County 17th Judicial Circuit of Florida.
Information Is Public and Available at No Cost
Obtaining this information online is free and immediate. Criminal case records can be searched by inserting the name of the accused or party to the criminal litigation, through the name of any business organization associated with the criminal case, by the Broward County Criminal Case number and even by the appropriate notice to appear citation number for those defendants who were not formerly arrested prior to charges being filed.
Information such as offense classification, such as misdemeanor or felony, state reporting numbers, Broward County Court case number, criminal information filing dates by the State Attorney's Office, the assigned Courthouse, Main North South or West. The current status of the criminal matter, assigned criminal court judge and division.
Criminal Defense Lawyer Filings and Licensing Information
In some cases, known aliases of the criminal defendant will be listed as well. Your criminal defense attorneys name along with identifying license information will also be listed in the search results. Attorneys will only be listed if they have filed appropriate notices with the court. If an attorney is not listed, it is a good indication that nothing has been filed on your behalf and no one has accepted responsibility for defending you. Basic identifying information about the defendant such as race, gender and date of birth will also be listed.
Scheduled Court Dates in Your Criminal Case
The public records that may be obtained through this site also include important information such as your next scheduled criminal court date, the description of criminal counts for which you are being prosecuted by the Broward County state attorney's office and applicable Florida criminal statute number.
How to Determine if a Warrant for Your Arrest May Have Been Issued
If the results of your search do not include any indication of a future scheduled court date and your case is marked pending, it is imperative that you contact your criminal defense attorney as this is a very strong indicator that a court date has been missed and that warrant for your arrest may have been issued. Note that this is not applicable to cases assigned to Broward County Satellite Courthouses whereby the named defendant was not arrested but rather was given a notice to appear citation. This is due to the delayed filing of criminal charges by prosecutors in satellite courthouses.
Instructional Video Reference Chart
For detailed instructions on how to use the Broward County clerk of courts criminal case public search portal located on our website, you may wish to review our brief instructional video for accompanying infographic.