Felony Child Abuse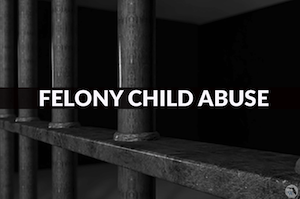 Criminal Defense Attorney, William Moore wrote:
Sent from Broward County Office
James Cecil Boatman was freed Wednesday, August 27, 2008 on a $2,000 bond. The 27-year-old father was arrested for beating his 5-year-old son because the son received a bad-behavior report from school.
According to the Tampa Tribune, an affidavit stated that Boatman "became enraged" Monday when his son brought the report home. He purportedly asked his son, "Boy, do you want to go to hell or to God?"
When the mother saw the bruises and scrapes on her son's face, head, neck, arms, back, torso, buttocks and legs, she questioned Boatman about it. He admitted to spanking his son. The mother was at work when the incident took place.
Child abuse occurs when a person intentionally physically or mentally harms a child. Felony child abuse, which, under the statute is considered aggravated child abuse occurs when a person:
"commits aggravated battery on a child;
willfully tortures, maliciously punishes, or willfully and unlawfully cages a child; or
knowingly or willfully abuses a child and in doing so causes great bodily harm, permanent disability, or permanent disfigurement to the child.
F.S. §827.03(2)(a).
Aggravated child abuse (felony child abuse) is considered to be a first-degree felony, punishable by imprisonment of up to 30 years and/or a fine of up to $10,000.