Florida Drivers Charged With DUI Can Also Face Child Neglect Charges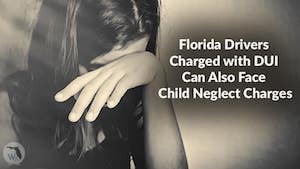 The St. Petersburg Times reports that Florida law enforcement officials are increasingly adding child neglect charges to DUI cases where they believe the child's life may have been endangered.
According to the July arrest report for Brian Adam DeLeon, the Odessa man had his 13-month old son in the car as he weaved in and out of traffic on Memorial Highway. Undercover Deputy Felix Moret pulled over DeLeon on July 25 and observed the smell of alcohol on his breath. DeLeon has pleaded not guilty to charges of DUI and child neglect.
DeLeon's blood alcohol level was below Florida's legal threshold of 0.08, but the deputies suspect he may have also been driving under the influence of drugs, so they are awaiting the results of a toxicology report. His was wife was in car with him, but she has not been charged.
Moret said that he has seen at least three cases of DUI and child neglect so far this year. But as the St. Petersburg Times points out, parents can also be charged for bringing children along when they complete an illegal transaction, such as drug trafficking.
DUI arrest can bring a charge of neglect, St. Petersburg Times, September 2, 2008
An experienced Florida DUI attorney can help you understand the legal implications of your case. Contact the Florida DUI Center to get your DUI questions answered.
DUI Defense offices located in Broward, Dade and Fort Lauderdale counties.