Florida Man Accused in Double Murder Gets 10 Years in Jail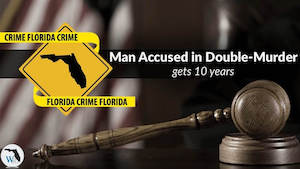 In Ocala, Florida, a co-defendant who was charged in connection with a double homicide pleaded to no contest to lesser charges last Friday. In exchange, he agreed to testify against the fourth and final remaining defendant in the homicide case.
Twenty-eight year old Carlose Arrellano was originally charged with two counts of first-degree murder. However, after pleading no contest to being an accessory after the fact to the first-degree murder and conspiracy to commit murder (both considered first-degree felonies), the native of Mexico was sentenced to a decade in the Florida Department of Corrections and another ten years of probation.
Court records show that Arrellano was arrested in Chicago earlier this summer and extradited to Florida where he was formally charged. Authorities believe that the December, 2001 double murder was a drug-related homicide.
Co-defendant in double murder pleads to lesser charges, Ocala.com, September 2, 2008
If you have been arrested and charged with a violent crime in Florida, then you need an experienced criminal defense attorney. Contact the law offices of William Moore for a free consultation.