Florida Man Arrested for Workers' Comp Fraud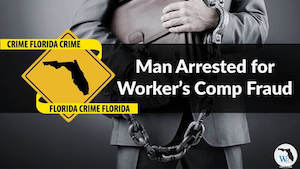 The Tallahassee man who was allegedly behind one of South Florida's biggest check-cashing operations was arrested last week. Florida's Department of Financial Services (DFS) reports that it has filed over a hundred charges against Christiano Leonardo Gloria. Gloria was allegedly involved in a premium fraud that set up shell construction companies and deceived insurance companies by applying for certificates of insurance on behalf of employees.
This plot gave certificates of insurance dozens of subcontractors and hundreds of employees, many of them undocumented workers. In actuality, none of these employees or subcontractors worked for the shell companies. Instead, they paid a fee to use the certificates of the shell companies.'
Among the shell companies were WM South Florida Construction, which according to the DFS defrauded the Florida Citrus Business and Industries Fund out of more than half a million dollars in premiums. Gloria is accused of laundering payroll money through money transmitters in South Florida.
Arrest made over comp fraud in Florida, Business Insurance, September 5, 2008
The Law Offices of William Moore defend clients who have been charged with insurance fraud, credit card fraud, and other practice areas. Contact a Florida criminal defense attorney to get your legal questions answered. Offices are located in Fort Lauderdale and North Fort Lauderdale Beach.