Florida Man Charged with First-Degree Murder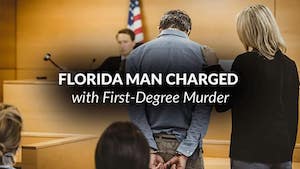 Florida investigators have charged a Wellington, Florida man with first-degree murder. They claim that the man introduced the victim to his killer. Bryan Rhodes, 24, went voluntarily to the Greenacres Police Department and shared his side of the story last week, according to police.
His arrest report states that Rhodes served as middle man in a drug deal on July 25 that resulted in the death of Kenneth James Torres, 28. An unnamed suspect told Rhodes he planned to rob Torres of 300 oxycodone pills and give Rhodes 75 pills as payment.
Rhodes did not alert Torres of the plans.
Greenacre police arrived at the 6000 block of Seven Springs Boulevard after Torres was shot outside his vehicle. Torres later died at Delray Medical Center. Rhodes is behind bars on charges of first-degree murder with a firearm, armed robbery with a firearm, and being a principal in the crime.
Man charged involved in deadly drug deal charged with first-degree murder, South Florida Sun-Sentinel, August 23, 2008
If you have been charged with criminal activities such as trafficking of drugs or homicide, then you need a lawyer with experience defending these types of cases. Contact a Florida criminal defense attorney for a free consultation to discuss your case.