Florida Mom Named as Person of Interest in Missing Child Case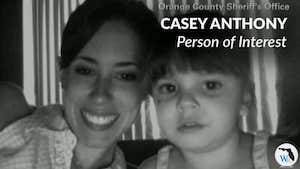 The 3-year-old daughter of Casey Anthony, 22, of central Florida, has been missing since June, but Anthony did not report the girl's disappearance for more than a month. The mom is being charged with child neglect, making false statements, and obstructing the investigation into her daughter Caylee's disappearance.
Police say that Anthony is considered a "person of interest" in the case of her daughter's disappearance. Authorities discovered hair, dirt, and a suspicious stain in Anthony's trunk after cadaver-sniffing dogs detected a scent in the woman's car. The University of Tennessee Forensic Anthropology Facility has discovered chemical evidence of human decomposition in the trunk which they believe may help solve their case.
Anthony is pleading not guilty and was released from prison on $500,000 bail last week. Her defense attorney escorted her out of jail under a black embrella and reportedly pushed an eager journalist out of her way. The pretrial hearing is scheduled for November 5 with a trial date of November 17.
Source: Trace of human remains detected in Florida mom's car, CNN.com, August 27, 2008
Caylee's mom leaves jail, pleads not guilty, CNN.com, August 21, 2008
Our Fort Lauderdale criminal defense attorneys focus on defending those accused of child abuse or child neglect, domestic violence, homicide, and other offenses. Contact the law offices of William Moore, PA for a free legal consultation.