Florida Women Sentenced to More Than 11 Years in Prison for DUI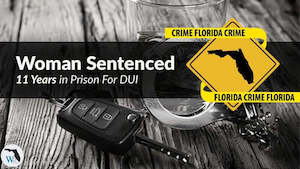 Mary Taylor-Christensen, 64, of Cocoa, Florida, was recently sentenced to 11.5 years in jail for DUI manslaughter following the death of Thomas Bowen, 46, of Jacksonville on February 21, 2005.
Prosecutors said Taylor-Christensen was driving under the influence of alcohol and prescription drug Xanax when her car veered into the emergency lane. She struck and killed Bowen while his wife sat in the car.
Her blood-alcohol level was 0.235, but relatives testified on her behalf, saying that post-traumatic stress disorder and a prescription drug addiction caused by spousal abuse and a bitter divorce had contributed to the fatal accident. Taylor-Christensen's DUI defense attorney added that the woman had no memory of the accident but felt extreme remorse for her actions.
Back in July she entered into a plea deal with prosecutors, pleading no contest to an enhanced DUI manslaughter case. Given the circumstances of the case, Taylor-Christensen faced a minimum of 11 years in prison, but she could have been sentenced to up to 30 years behind bars if she had been convicted at trial.
Once she is released from prison, Taylor-Christensen will also serve a decade of probation.
More than 11 years in prison for DUI conviction, FloridaToday.com, August 16, 2008
Woman Hit-And-Run Driver To Be Sentenced, WFTV.com, August 15, 2008
If you have been arrested and charged with DUI in Florida, then contact William Moore Criminal Defense and the Florida DUI Center. Your choice of DUI defense attorney can make all the difference in your trial, so choose wisely. Trust a DUI attorney with a proven record for defending those accused of drunk driving.