Murder, Arson and Burglaries This Week in Broward County
I am attorney William R. Moore and this week in Broward County crime news we saw violent crime along with the typical theft cases specific to burglary in our community. First up according to the Broward County Sun Sentinel we have a sad story involving a woman who was beaten to death and then left in her home whereafter the assailant tried to cover up the crime by attempting to burn down the house with her body inside. What's more upsetting about this violent crime is that at the time that the arson was attempted the victim was not yet dead.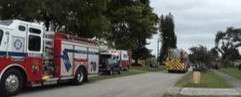 Assailant make well Castano Herrera is alleged to have lost his job and been put out on the street when he was given shelter by a friend and coworker. Later Mr. Herrera was accused of stealing from that same coworker.
According to reports, the victim's sister learned of the thefts and demanded that he be removed from her siblings home which resulted in increased tension between the defendant Herrera and the sister. Broward County Sheriff's deputies believe that it was this escalated feud between the two that led to Herrera's beating victim Diaz. Ms. Diaz died of blunt force trauma wounds in hospital three days after being discovered.
Evidence was discovered tending to link the defendant to the crimes. Specifically items used to beat the victim along with cleaning items and chemicals. Defendant Herrera is being held on no bond in the Broward County Jail.
Additional crime news involves burglaries in Fort Lauderdale where jewelry was taken from a residence. Suspects were alleged to have broken into one home were items were taken. The assailants apparently rode bicycles in committing the crime.
Images of the assailants were recorded on a home security system according to attorney William Ryan Moore the suspects have not yet been apprehended however clear images depicting the identities of same was recorded via video surveillance.