Niceville, FL Man Charged with DUI Manslaughter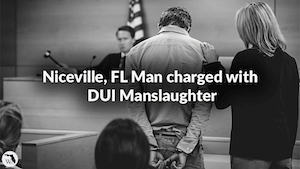 According to the Florida Highway Patrol, Gabriel C. Pineiro, of Niceville, is being charged with DUI manslaughter and careless driving following a January 11 car crash that ejected and killed a passenger. The 24-year-old suffered critical injuries from the accident and was arrested last Saturday.
Pineiro was driving north on State Road 285 when he drifted onto the grass shoulder. He overcorrected and lost control of his vehicle, which spun, overturned, and hit a couple of trees before landing upright. Pineiro's passenger, Wesley B. Faile, also of Niceville, was not wearing a seatbelt and was pronounced dead at the scene of the accident.
The Florida High Patrol determined that alcohol was a factor in the fatal car accident, so Pineiro is charged with DUI manslaughter and careless driving.
DUI manslaughter charged in January crash, NWFDailyNews.com, August 9, 2008
The minimum penalties for DUI convictions including a six-month driver's license suspension, fifty hours of community service, and six months reporting probation, among other penalties. If you have been arrested and charged with drunk driving, then contact William Moore Criminal Defense, P.A., at the Florida DUI Center.