The Importance of Jury Selection in a DUI Case – Part 2.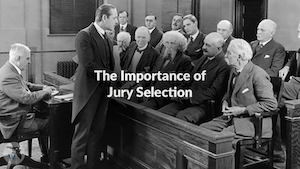 Issues that need to be covered in questioning the presumptive panel will vary, depending on the specific facts of any DUI case. Preparation for this most important aspect of any DUI trial must always conform to the evidence that will be presented throughout the adjudicatory hearing. Factors that must be covered in all DUI cases however, include the following:
A presumptive jurors age and gender – statistically the best juror to sit on a DUI case is a male aged 22-26.
Ethnicity and education – white males who are college-educated are also excellent candidates to sit as a tryor of fact in a DUI case.
Attitudes towards consuming alcohol – for obvious reasons, a presumptive jurors feelings about drinking in general are paramount. Obviously, individuals with strong negative feelings about drinking should be excluded at all costs. A DUI defense attorney will always seeks to choose jurors that freely drink alcohol.
Driving history – persons who have had traffic infractions and/or accidents in recent years should be sought out as potential jurors.
Consuming alcohol and driving – jurors who understand it is not illegal to have a drink and drive an automobile easily understand that it is not a crime until such a person's normal faculties are impaired by alcohol.
See article by William R. Moore Criminal Defense entitled, It is Not Illegal to Drink and Drive.
The State's burden – Individual's should not be chosen to sit in judgment of a DUI defendant unless it is abundantly clear that they understand the State's burden of proof and how it pertains to each and every element of a DUI case.
Although these are just a few areas that must be covered in jury selection, the above list, while relatively simple, must never be ignored. Choosing jurors that have an open mind and who will truly listen to the facts of the case and give this evidence the creditability that it deserves often puts the defense at an advantage at trial.