Tragedy of a DUI Manslaughter for Both Victim and Defendant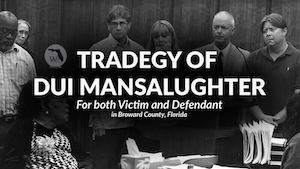 After years of defending DUIs in South Florida you would think I'd have developed some resistance to the sick feeling that I get each time I read about young people who get arrested for DUI manslaughter. I can tell you I haven't. I have had the opportunity to discuss with homicide prosecutors the emotional toll it takes on them having to prosecute 19 and 20 year olds for DUI manslaughter and to seek significant prison terms. Almost always, the defendants being charged are otherwise good kids, most often in college, and have no criminal history. Nonetheless, a poor decision would cost not only the lives of innocent motorists but their own.
One former prosecutor who now sits as a Judge explained to me while sitting in court one afternoon that it is the most difficult thing in the world to have the family of a victim express their pain to you on a daily basis while at the same time having the families of the defendant, who did nothing more than make a poor choice, beg you not to send their only child to prison.
Recently in South Florida, two separate individuals were arraigned in Broward County on Friday, October 26, 2007 for separate charges of DUI manslaughter. Rachel Ritlop, only 18 years old, is charged with two counts of manslaughter stemming from a March 31st incident whereby an elderly man and his wife were killed. In another incident, Ryan Parantha, aged 26, was charged with vehicular homicide following an incident where his automobile veered out of his lane and crashed into a concrete pole resulting in the death of his passenger.

For more information on this case or a criminal DUI manslaughter case in South Florida contact William R. Moore Criminal Defense law firm.
(954) 523-5333