Disorderly Conduct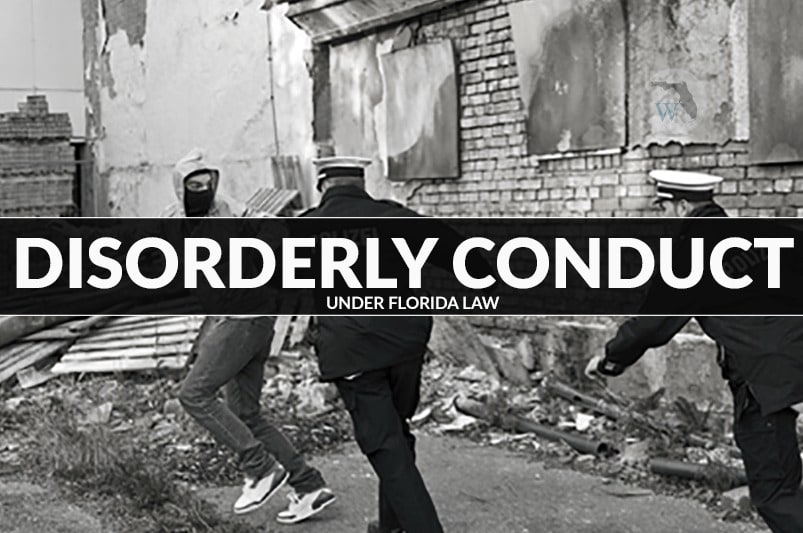 Our Criminal Lawyers in Fort Lauderdale recently spoke about challenges Florida Disorderly Conduct Law which is meant to penalize conduct such as brawling or rioting in public places. The law is meant to help police officials control those who are disturbing public peace, however is often vague in application leading to abuse by law enforcement.
A conviction under the law is a criminal offense and needs to be acknowledged as such in employment and license forms. This means that those arrested for disorderly conduct should try and defend themselves especially if they feel their actions have been misunderstood or misrepresented by law enforcement authorities.
William Moore Criminal Defense represents clients charged with Disorderly Conduct in Broward County.
Definition According to Broward County, FL Based Criminal Lawyer William Moore:
Florida law defines disorderly conduct as those committed in public and likely to destroy the public morals, outrage the sense of modesty of the public, or destroys the peace of a public place.
For instance, drunken behavior, public brawls called affray in legal terms, rioting, and speech likely to incite rioting are considered disorderly conduct. In general, just speech is not sufficient to lead to a charge of disorderly conduct as it is protected under the First Amendment. However, if the prosecution can prove that the speech provoked others to violence, caused immediate bodily harm, or disturbed the peace, then the defendant can be convicted.
Penalties
Most of Florida disorderly conduct laws cover second degree misdemeanor. However, rioting is a felony charge. For a second degree misdemeanor, Florida law recommends up to 60 days imprisonment or a fine of $500. A first degree misdemeanor can increase the prison term and the fine component. A felony charge, on the other hand, can lead to a prison term of up to a year.
Prosecution
To obtain a conviction of disorderly conduct the prosecution has to demonstrate that the activity took place in a public place, that the witnesses were disturbed or incited, or a false report of danger was spread. The proof for these claims varies in individual cases depending on the location where the incident took place, the time when it happened, and the people present. The prosecution will call as witnesses not only the law enforcement official concerned but also members of the public who were present at the scene.
Defense
There are many arguments a criminal lawyer can use to defend someone accused of disorderly conduct. Broward attorneys at the law firm William Moore Defense not only deliver decades of knowledge and experience but also provides legal representation that is steadfast fueled by determination. If you or a loved one has just been arrested disorderly conduct in Fort Lauderdale, Broward area or are facing criminal charges for disorderly conduct in Fort Lauderdale, Broward County, contact disorderly conduct attorney at Moore Defense for immediate legal answers and available representation in Fort Lauderdale, Broward County area.
Disorderly Conduct Lawyers in Broward & Broward County argue that a violent act or a brawl can be defended by proving that the defendant was acting in self-defense. For this it might be necessary to prove that the other party involved in the brawl started the fight or provoked the defendant.
The accusations of disorderly speech can be denied by citing the First Amendment. People have the right to voice their concerns in public and are protected by the right to Free Speech. However, there are limits to this, and the defense attorney will be able to explain the fine difference between inciting or protesting and free speech.
Sometimes, criminal lawyers in Broward County can prove that the acts committed did not occur in a public place. For example, a fight that took place inside a residence cannot be used in a disorderly conduct case.
Another defense that has been used successfully in a disorderly conduct case is that the words uttered by the defendant did not incite the general public present at the time of the incident.
When defending a person accused of disorderly conduct in Florida, a defense attorney commonly uses a variety of strategies. The first is to try and to have the charge dismissed by the prosecutor by explaining the rationale of the defendant or the circumstances that lead to the conduct.
The defense can also reduce the severity of the penalty even if the case is heard in court. This can be done by effective negotiation that reduces the impact of the conviction on employment and educational prospects. An attorney's reputation and skill always effects the negotiations of their client.
William Moore is a veteran Broward criminal defense lawyer with over 150 criminal jury trials under his belt. Remember, if you are looking for competent representation, always consider an attorney's past history and experience before deciding. Criminal convictions can be devastating on the accused and his or her family. William Moore Criminal Defense is an aggressive and experienced law firm with a strong local reputation.